Celebration François Pompon's centenary of his Polar Bear
To celebrate the 100th anniversary of the creation of Ours blanc presented at the Salon d'Automne by François Pompon in 1922, the city of Saulieu, birthplace of the famous sculptor, has decided to register Saulieu as the cradle of art. animalier, through an open-air exhibition of contemporary artists in the city.
This year 3 internationally renowned artists Cévé, Sandrot and Pascal Masi are in the spotlight. Six sculptures and 3 paintings on sheet metal will be exhibited from May 1 to December 31, 2021, to stage an "open-air museum" in honor of François Pompon.
© unidivers.fr
Cévé's teddy bears in Paris
Until the end of the month, the French sculptor Cévé exhibits her famous bears in the Royal Passage, the prestigious gallery lined with luxury boutiques between rue Royale and la Madeleine in Paris. After Miami and Shanghai, the artist renowned for his bronze animal sculptures, presents "Young Forever", his new exhibition, composed of bears in resin, in his hometown.
Invited in 2019 to Los Angeles Fashion Week and to the Art Miami VIP area, Cévé is therefore making the buzz in the French capital at the end of winter. For the occasion, the sculptor composed three original pieces over 2.50 meters high, resistant to wind, rain and cold. Connoisseurs will recognize his favorite teddy bears: Ball Moon, Red Moon and Blue Moon, but in gigantic format. In addition, one of the works incorporates hologram glitter on its body which reacts to the light and lighting of the Village Royal. 
© Charente Libre / February 20, 2021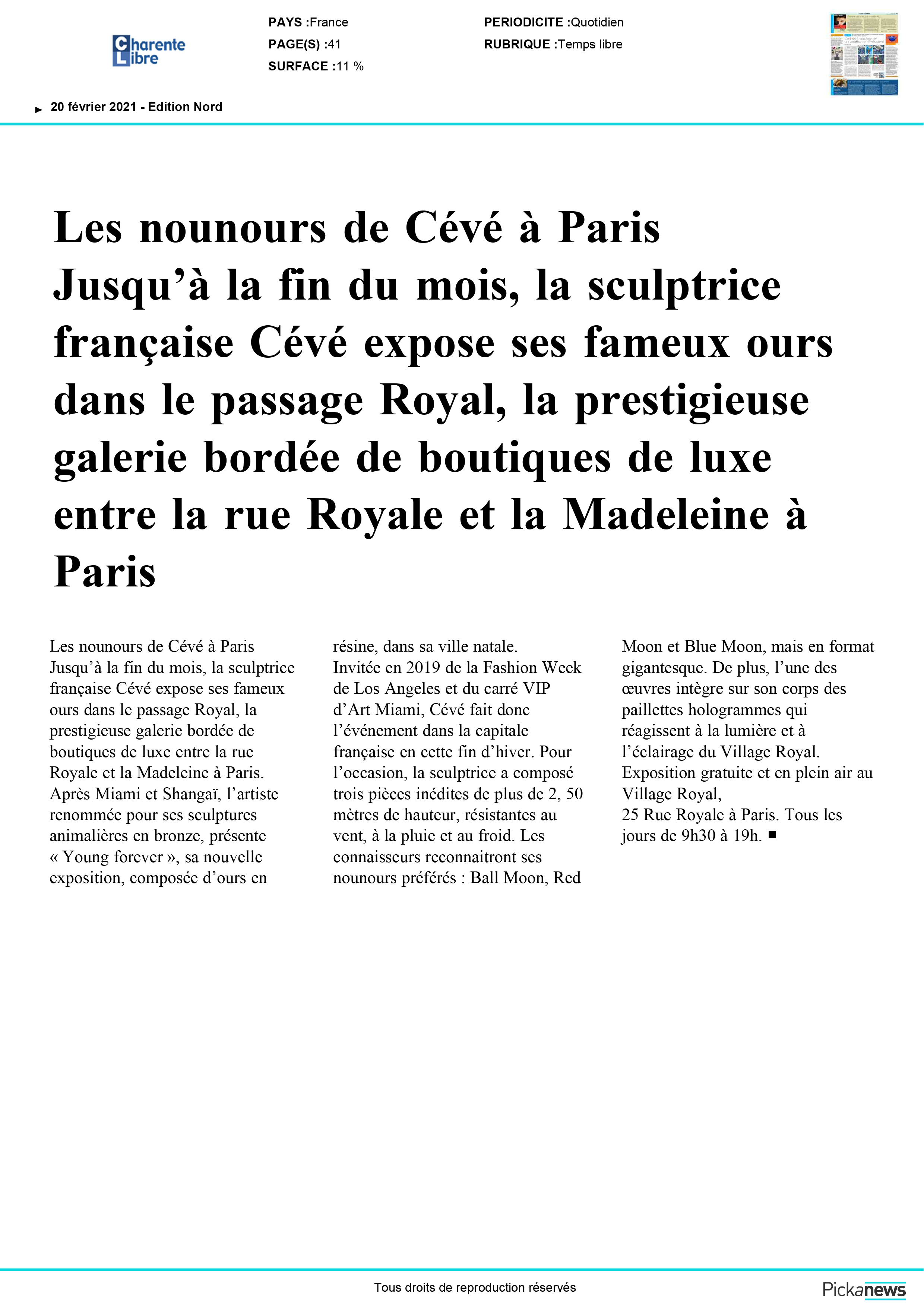 To discover as soon as possible until the end of February 2021!
The sculptor CÉVÉ, whose resin teddy bears "Young Forever" have seduced the whole world for more than 3 years, has declined her adorable creations in large format versions of more than 2.50 m for the exhibition of the Village Royal in partnership with the Bel-Air Fine Art gallery.
Ball moon
Works that warm our childish souls at the Village Royal, the most chic and glamorous passage in Paris!
Sparkling and colorful, these teddy bears that we fall in love with in a few seconds bring back our childhood memories in this prestigious place where the soul of the musketeers still hovers behind luxury brands.
© Presse Agence / February 16, 2021
Cévé, animal sculptures in bronze
Already sold in more than 30 countries, Cévé's "Young Forever" series makes him the essential French artist in the international art market. Renowned for her bronze animal sculptures, this one saw a consecration, from Miami to Paris, with her teddy bears made of resin with a glossy silver finish. A tender and brilliant series which seduces the greatest contemporary galleries. Brainly, bubbly, Busy, Chubby, Moony, Smoothy, Sparkly and Sunny are beautiful collectibles for an experience of escape and poetry.
© contemporains.art
Cévé teddy bear exhibition at the "Village Royal"
Faced with the gloomy atmosphere of the city, the "Village Royal" invited the French sculptor CÉVÉ to exhibit her resin teddy bears.
As cute as you want, all plump, they have been a hit in contemporary art fairs and fairs from Miami to Shanghai to Paris, since 2018.
"Young Forever" is a resolutely regressive collection, with dozens of specimens, including seated teddy bears, teddy bears with balloons hanging from their arms, teddy bears holding hands behind their backs… This collection came to him in 2018 , after a trip to her son's in New York. When she brings him a "bear" sculpture in memory of France, one of her long-time friends gives her the idea of ​​reproducing it in different formats and bright colors.
 © Sortir à Paris / January 19, 2021
Teddy bears to relapse into childhood
8th – Teddy bears to relapse into childhood
While strolling through the chic passage of the Village Royal, you will come face to face with… giant teddy bears. 2.50 meters high, these regressive bears are signed by the French sculptor CEVÉ and shine thanks to their glossy resin.
Where ? Rue Royale, M° Madeleine. Price: free. Practical information: 9:30am to 6pm. villageroyal.com
© Le JDD.fr / January 30, 2021
Cévé enchants the "Village Royal" with its resin teddy bears
Renowned around the world for her bronze animal sculptures for more than 15 years, the French sculptor Cévé lives a consecration from Miami to Shanghai via Paris, her hometown with "Young Forever", a collection of resin teddy bears endowed with 'a glossy silver finish.
Invited in 2019 at Los Angeles Fashion Week and the Miami Art VIP area, one of the most prestigious salons in the world, Cévé created three exclusive works for the Village Royal.
Three tender, luminous and shiny teddy bears, which after having seduced the biggest galleries, will rock and comfort the French people who really need them at the end of 2020!
 © Actu.fr / January 4, 2021
CÉVÉ : sculptor «avant-guarde of Joy»
In the tradition of the animal sculptor François Pompon (1855-1933), who was the little hand of Rodin then directed his workshop, the sculptor CÉVÉ brings the animal-subject up to date with great freshness, without sophistication and without the the exuberant superficiality of the "compliant marketing" characteristic of other contemporary artists. CÉVÉ was invited by the Village Royal, in Paris, where sculptures, created especially for the occasion, are visible until February 2021.
A teddy bear… you had to dare!
The approach, in which CÉVÉ is part, places it, perhaps, at the forefront of a trend that will be part of the sharing of the joy of creation to arouse the happiness of the moment, far away. of the existential uncertainties and anxieties of our time. Let's face it, we had to dare to make a teddy bear – the intimate confidant of childhood – an artistic creation. Bet won, since it has become a work of art recognized by the adult world. Note that since its creation, the collection has toured the world, from New York to Shanghai.
© Aeternus / December 21, 2020
CÉVÉ Launches First Solo Exhibition at HG Contemporary Gallery in NY
If you're looking to expand your contemporary art collection, look no further than CÉVÉ. Specializing in modern sculptures, the French artist's unique and recognizable pieces seamlessly combine two very different worlds: the worlds of high luxury and of innocent childhood.
 © Haute Living / October 29, 2018